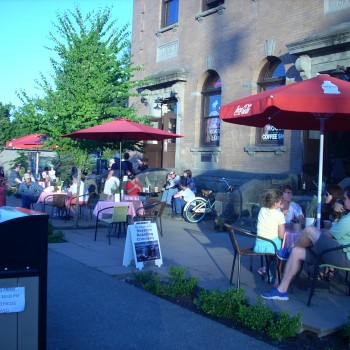 Cumberland is a beautiful, historic village in an outstanding natural setting. There's lots to see and do here, and our friends and neighbours offer many chances to visit, shop, play and stay in the Village.
If you want to spend time in the outdoors, our mountain bike trails are fabulous – just ask Bill for his favourites or pop into Beaufort Cycles or Dodge City Cycles for great service and advice. As well as biking, there are walking trails in the forest and self guided heritage walks around the Village. Ask at the Cumberland Museum for more details, and look round this gem of a museum to learn more about the long and fascinating history of our Village. Head up to Comox Lake for beach time, more walk, great climbing and launch your boat for great fishing, water skiing or just exploring in the shadow of our glacier. In the winter, we are just 30 minutes from the ski lifts at Mount Washington
To stay in the Village, see if you can get a space at the ever popular Bridal Alley Cottage or Stansbury's Guesthouse, contact the Riding Fool Hostel, possibly the nicest hostel you will find anywhere and with private rooms, and now you can also stay at the Waverley Hotel.
In the evenings, once the Wandering Moose is closed, you can find good pub food and exceptional music at the Waverley, and check out the other pubs and restaurants in the Village.